Moo Duk Kwan® Lifetime Member Exclusive Apparel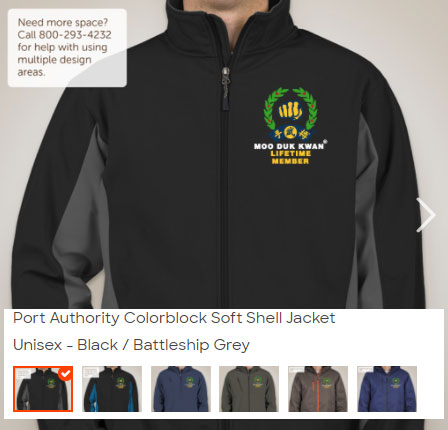 Moo Duk Kwan® Lifetime members have a long track record of providing exceptionally strong support for the Moo Duk Kwan® in the USA and for going above and beyond the call of duty when asked.
Since the inception of the Lifetime Member program, more than 260 USA Federation members have elevated their membership support to Lifetime. You can get to know them here.
During the 2017 Moo Duk Kwan Apparel Year End closeout exclusive jackets in multiple styles and brands are available exclusively for Lifetime Members. Port Authority Colorblock Soft Shell Jackets, Eddie Bauer Hooded Soft Shell Parkas and Port Authority 3-in-1 Waterproof Vortex System Jackets,
A minimum qty of this item must be ordered so that it can be produced and shipped to you when ordering ends on Dec 31, so please reach out to your fellow Lifetime Members to make sure they are aware of this opportunity before December 31, 2017
[ujicountdown id="navy-white" expire="2017/12/31 23:59″ hide="true" url="" subscr="MDK1945-11-2016″ recurring="" rectype="second" repeats=""]
Click To Order Before Campaigns Close
Minimum order quantities must be met for items to be produced and shipped.
Share with fellow Lifetime Members!
Moo Duk Kwan® apparel products and designs featured in time limited campaigns may not be available after the campaign ends.